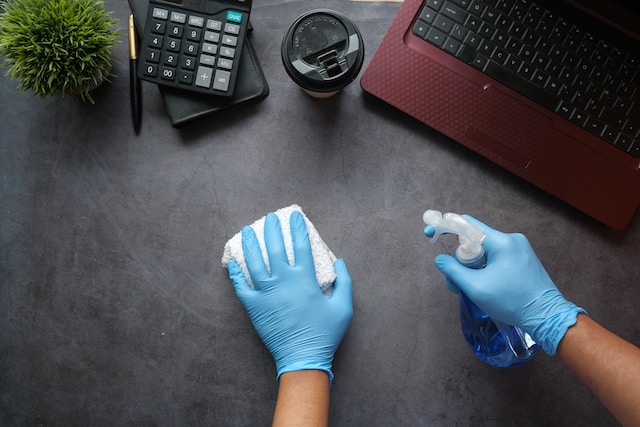 The Importance of Disinfectant Cleaning Services for a Clean and Healthy Environment
Published : Mon, Jun 19, 2023 12:00 PM GMT
In today's world, the need to maintain cleanliness and hygiene in our surroundings is a top concern. Cleaning not only has a physical impact but also affects our mental well-being. Disinfectant cleaning services offer an effective solution to keep our homes and workplaces clean, germ-free, and free from harmful microorganisms. By employing these services, we can ensure a safe, sterile, and productive environment while safeguarding our health.
Benefits of Cleaning and Disinfecting Services:
Preserving Health:
A clean workplace with sanitized surfaces and equipment contributes to a safe and healthy environment. It reduces the spread of infectious diseases and enhances the efficiency of cleaning procedures, promoting overall well-being.
Ensuring a Sterile Environment:
Disinfecting equipment and surfaces plays a crucial role in maintaining a clean and contamination-free environment. This eliminates the risk of cross-contamination within the workplace, safeguarding employees and visitors alike.
Eliminating Soil and Germs:
Thorough disinfection of equipment, floors, and other surfaces ensures the complete eradication of soil, bacteria, and other harmful microorganisms. By eliminating these contaminants, cleaning services help prevent workplace illnesses and promote a hygienic setting.
Removing Contaminants and Stains:
Disinfecting surfaces effectively removes contaminants such as dirt, dust, food particles, grease, and oil, leaving your workspace free from unsightly stains. This comprehensive cleaning approach prevents the accumulation of dirt over time, enhancing productivity and maintaining a professional appearance.
Increasing Efficiency and Productivity:
To optimize productivity, it is beneficial to hire a professional cleaning company like Auraclean. Our services expedite the cleaning process, allowing you to have a clean and ready-to-use office promptly. Regular visits from our cleaning teams save time, allowing you to focus on your core business operations.
Reasons to Hire Professional Disinfectant Cleaning Services:
Germ Elimination: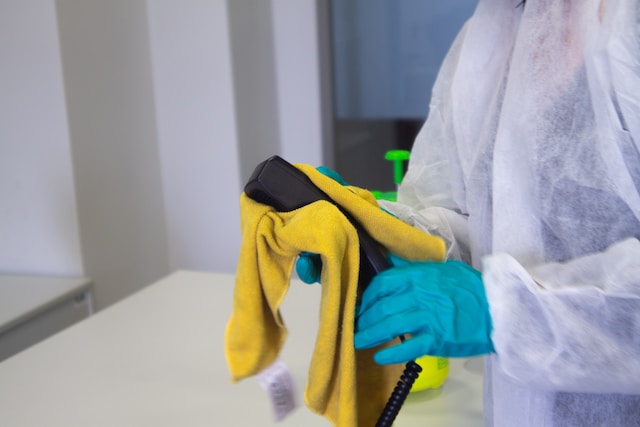 Professional disinfectant cleaning services are capable of eliminating 99.9% of germs, bacteria, and viruses. Employing effective disinfectants ensures thorough sanitization and minimizes health risks. It is particularly crucial for maintaining cleanliness in sensitive areas, such as healthcare facilities.
Employee Health and Productivity:
Office disinfection services create a clean and healthy workspace, reducing the presence of bacteria and contaminants in the air. This contributes to the well-being of employees, resulting in fewer sick days and increased productivity. Furthermore, using biodegradable disinfectants also promotes environmental sustainability.
Sanitation for a Spotless Environment:
To ensure a clean and sanitary environment, businesses rely on sanitation cleaning services provided by professional cleaning companies. These experts thoroughly inspect the premises, addressing any visible issues. By utilizing their specialized equipment and expertise, sanitation workers deliver sparkling and fresh results without causing any damage.
Conclusion:
The significance of disinfectant cleaning services cannot be overstated. In our quest for cleanliness and well-being, these services play a crucial role in maintaining a safe, healthy, and productive environment. By employing professional cleaning services, we can enjoy a germ-free space, preserve our health, and foster a positive reputation in both personal and professional spheres.
Experience a cleaner, healthier environment with Auraclean, the leading professional cleaning company in the Greater Toronto Area. Our disinfectant cleaning services ensure germ-free spaces, increased productivity, and peace of mind. Contact us today for a sparkling clean and safe workplace or home.